Design Concept

You don't have to be crazy to love these shoes, but it might help. The design is taken from the painting by Van Gogh during his period in the asylum when he looked out at the night from his window. What was he thinking? What was he feeling? Contemplate these mysteries as you sport these great masterpieces over your noble toes.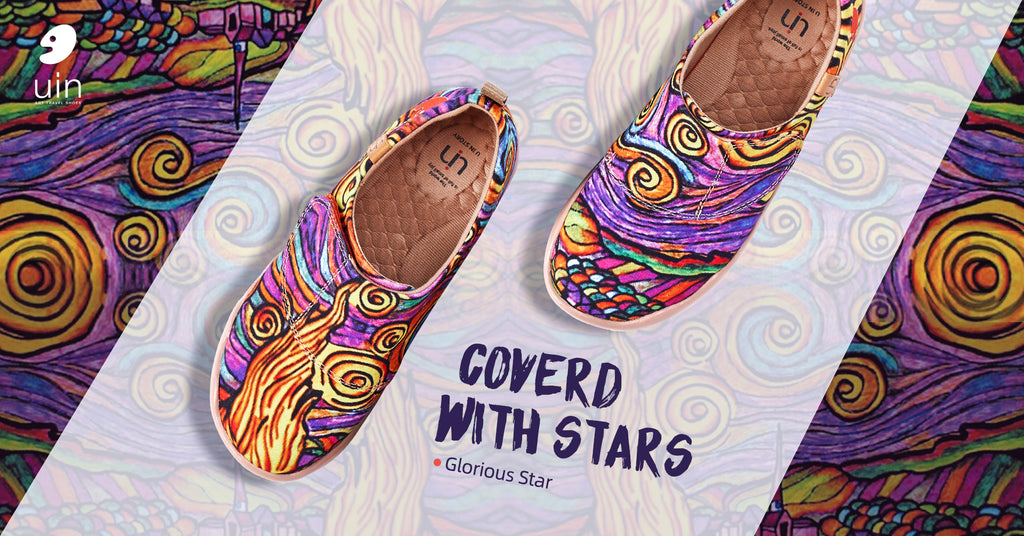 Unmatching Painted Shoe Design
A true footwear masterpiece that will have you looking chic and unique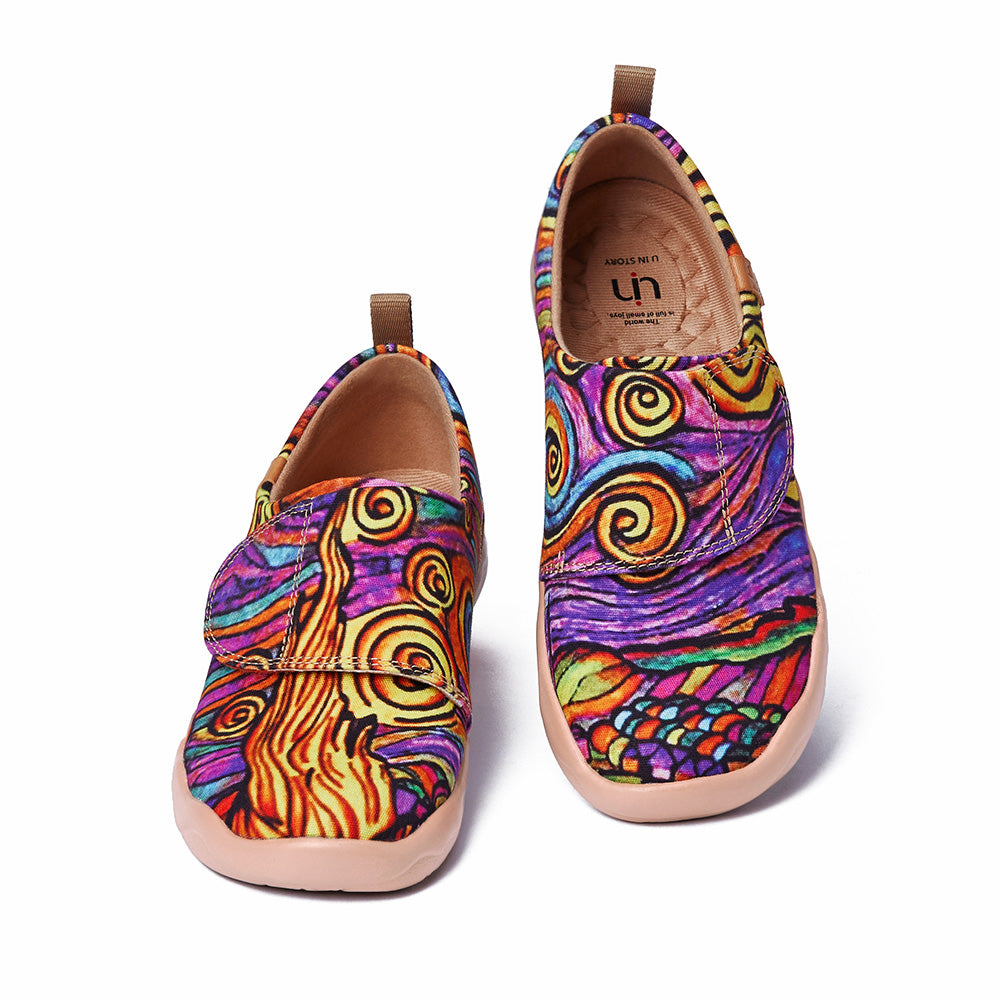 Material
Upper:Canvas / Heel Lining:
Short Plush / 
Insole:Ortholite / Outsole:EVA / Closure Type:Slip-On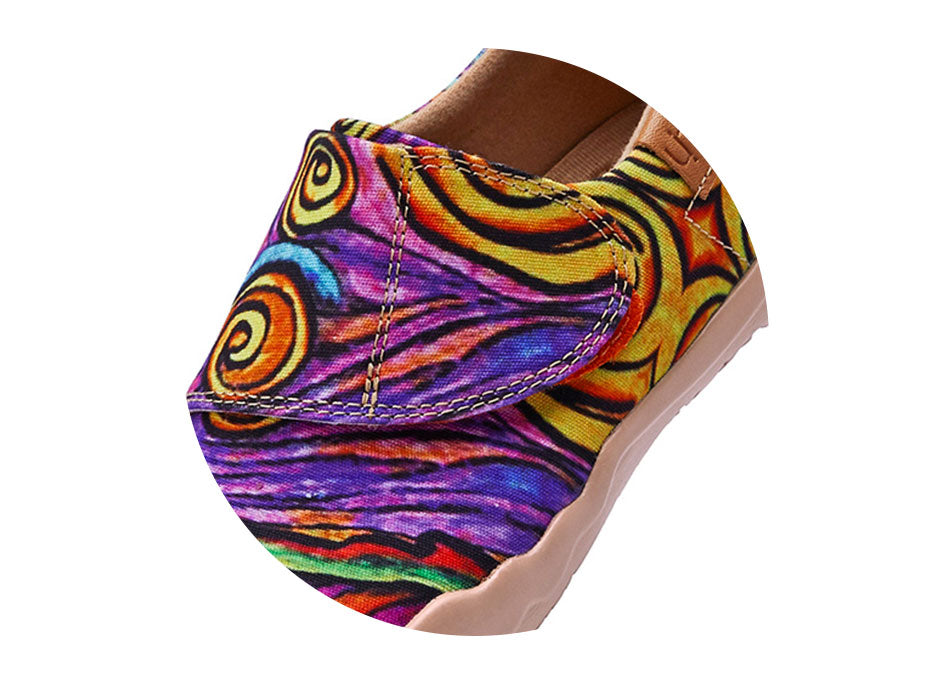 Born in Toledo, Spain - UIN Footwear's pairs are a testament to two passions — travel and art. As discovering new places is associated with excitement and joy, UIN canvas shoes underline those positive feelings through colorful and artistic patterns. Although each story is different, we strongly believe that with a positive attitude, even the most challenging situation or demanding travel plan can be successfully completed. That's why undergoing new adventures and coloring stories are the way to express beauty, passion and freedom. U IN Story: Paint your story, Free your sole. The artistic touch of Fernando Acevedo's design highlights the enthusiasm to life, chase for freedom and love for traveling. UIN painted canvas shoes are crafted simply for free spirits who embark on all of life's adventures in style.
UIN shoes are the result of the aesthetic vision of Fernando Acevedo – Spanish artist strongly linked with Barcelona and Toledo. Inspired by the exceptional artwork of Antoni Gaudi, Fernando incorporated subtle Spanish elements into UIN shoe design. This is why UIN Footwear bears Acevedo's signature – a map of Spanish city Toledo imprinted on the underside of each shoe. Additionally, all UIN shoes pay tribute to Gaudi's artwork Casa Milaà whose wavy structure was adopted in a curvature of UIN shoe sole representing Gaudi's artistic belief – "The straight line belongs to men, the curved one to God."  
1. Soft RPS Cushion incorporated in UIN loafers.
The insoles of UIN loafers are made of soft and breathable OrthoLite material that provides a comfortable fit and sensory stimulation. Soft RPS Cushion with the responsive technology applied is designed to deliver massage experience and exceptional comfort during both static and dynamic activities. Soft external Cushion elements stimulate feet gently, while the inner part of the foam prevents insole compression. Unlike traditional cushion, UIN RPS insole compresses less than 5% across the product's lifetime, providing long-lasting fit, performance, and comfort. High-breathability materials eliminate the moisture, maintaining a dry environment for the feet. Unique features of carefully selected breathable materials mask unpleasant odors and act as a buffer to protect your feet from harmful microbes. UIN Soft Responsive Cushions are easy to maintain due to washing machine friendly features. 
2. SARP Shock Guard Technology
UIN loafers have cutting-edge SARP Shock Guard Technology integrated for the purpose of reducing foot pressure. The parts of the feet which are the most exposed to the pressure during dynamic activities are covered with Ethylene-Vinyl Acetate known for its shock-absorbing properties and buoyancy. The remaining part of UIN insoles is made of the carefully chosen proportion of OrthoLite and Ethylene-Vinyl Acetate to deliver the optimal balance between support and cushioning. SARP Insole Solution incorporated in UIN loafers' pad effectively absorbs shocks and reduces foot pressure allowing to minimize the risk of injuries and improving comfort for prolonged walking & standing sessions. The versatility of SARP shock guards helps to distribute pressure, provide stability, balance, and comfort during both static and dynamic activities.
 3. Arch Support System
UIN Footwear incorporates in its insole structure Arch Support System to provide a firm platform of arch support and therefore preventing overpronation associated with flattening of the feet. Integrating Arch Support System with a shoe foam makes UIN insole suitable for individuals with the highest expectations of comfort. The arch support system is designed to reduce the occurrence of Plantar Fasciitis pain and significantly improve comfort during extended periods of standing and walking sessions. Arch Support System incorporated in UIN loafers helps to maintain correct body posture, comfort, and protection. 
Measure Your Feet for A Perfect Fit! 
Place a paper sheet on the floor against a wall;

Stand on  the paper sheet placing your heel against the wall;

Draw a mark at the end of your longest toe;

Measure the distance between the mark and the border of the paper sheet.
Nous nous sommes attachés à nous assurer que les articles soient livrés à nos clients le plus rapidement possible. Vous recevrez votre commande dans 10 à 20 jours ouvrables à compter de la date de sa passation.
Verification
Un email ou un message de confirmation vous sera envoyé une fois la commande autorisée et vérifiée. Nous commençons à préparer votre commande immédiatement après sa vérification. Avec ce type de délai, il nous est difficile de modifier ou d'annuler votre commande, mais nous ferons de notre mieux pour répondre à votre demande.
En traitement
Il nous faut normalement 1 à 2 jours ouvrables pour traiter votre commande. Veuillez noter que cela n'inclut pas les jours fériés et les week-ends.
livraison
L'entrepôt UIN est principalement situé en Chine, par conséquent, pour l'expédition internationale, l'expédition prend normalement 15 à 30 jours ouvrables pour arriver. 

EXPÉDITION DANS LE MONDE ENTIER:
Pour une expédition plus rapide,
Pour des informations détaillées sur une livraison express plus rapide, veuillez contacter notre service clientèle pour plus de détails, contactez maintenant: info@uinfootwear.fr
 
* Le temps d'expédition est estimé et commence à partir de la date d'expédition, plutôt que de la date de commande, et peut prendre plus de temps que prévu en raison d'une adresse non valide, de procédures de dédouanement ou d'autres causes.

* Veuillez soumettre un billet dans les 6 mois suivant l'expédition si le colis n'arrive pas à temps, notre représentant vous répondra dans les 24 heures. Notez que les demandes en retard peuvent ne pas être acceptées.
Deliveré     
Connectez-vous à votre compte et confirmez la réception.